My Girl
Have I talked about my secret Kelley Deal crush? Actually I had a crush on sis Kim first, but then when Kelley (that's right, there's two "e"s in her name) appeared in the Breeders, my heart, being the lonely and fickle hunter that it is, did a complete 180. It's Kelley now, and Kelley forever. I'm so glad to finally say all this out loud.
Unfortunately my Kelley pictures are way too big to post here. As a substitute, I'm going to post one of my Japanese lap pillow photos: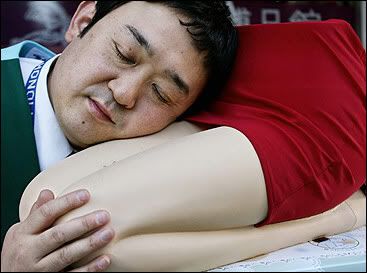 Comforting, isn't it?
Seattle has hills. I sort of knew this before I moved here, but didn't realize how big and steep they actually are. The kind of hills I imagine myself in a broken heap at the bottom of, my bike landing on top of me and a UPS truck coming in to finish off the job. When I lived in SF I used to have nightmares about these kind of hills.
That being said, people here are a lot more respectful of bikes and bike riders. Probably because so many of them ride themselves. They are more respectful here in general it seems. They say things like "Excuse me" and "Thanks". It's taking me a little time to get used to this, especially after the my-recent-ancestors-left-me-behind-in-this-hellhole-when-they-moved-out-west attitude of the people in the town where my mom lives (is it Gloucester? I'll never tell).
Winter will come though, and we shall see if the civility can hold out (I hope it does).